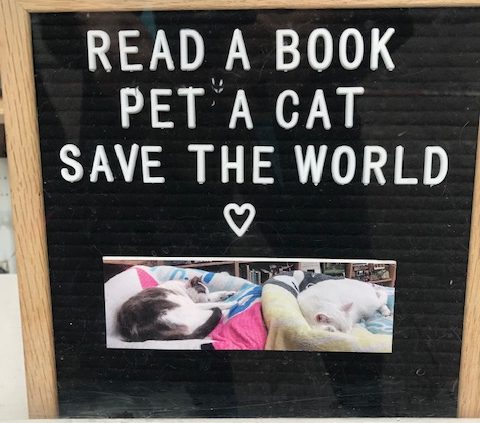 A Books + Chocolate Crawl leads to a new bookstore in the East Bay featuring Books + Cats
Last weekend, I stumbled upon a listing for an event called "Bookstore & Chocolate Crawl" and ever the fan of a good crawl, I thought I'd investigate further. The pairing was irresistible. Conceived by a small group of bibliophiles for bibliophiles, the team creates an event every 3-4 months in a different Bay Area neighborhood with a neighborhood map and start time. A group assembles, chocolate is passed out, and the leads carry handmade signs, a la tour guides, and march us from independent bookstore to independent bookstore.
We convened at Moe's, an old favorite, and then were encouraged to check out a new bookstore a block away, Sleepy Cat Books, another excellent mashup of books + beloved other thing, in this case, felines. The store is clean, quirky, with a nice well curated mix of titles, checker and chess at the ready, and an added bonus: when you bring your books to the register for purchase, there's pet therapy in the form of two reclining cats ready to soak up love. Having recently visited Cat Town which pairs another winning combination: cats + coffee, I immediately recognized the appeal of Sleepy Cat Books. Yet unlike Cat Town, these kitties are not up for adoption but rather they rule the roost. I think there was a proprietor there too, but he garnered far less attention than the two cream-colored cats.
I asked the  bookseller if they were regularly this busy on the weekend and he looked bemused and said no.
From there, the group pressed on amid the drizzle to visit University Press Books on Bancroft Way which was jumping with action. There was a line three to four deep at the counter with people scooping up tome-y university press titles. It must have been a combination of Cal graduation time and having a tour of bibliophiles invading the store. I asked the  bookseller if they were regularly this busy on the weekend and he looked bemused and said no.
At this point, the group had at least two or three more stops indicated on their hand-drawn map: Pegasus, Half Price Books and Books Inc, but I was famished from walking 6 blocks and visiting three bookstores. I got lulled into the Musical Offering Cafe next door, where there was live chamber music and an enticing avocado and beet salad. Eager to begin reading my purchases, I quietly bailed on the walking tour to take advantage of the free concert and comfortable seating.
I'm sure my fellow bibliophiles pressed on in the rain in the name of indie bookstores everywhere! I look forward to joining them next time in the city this summer. Check out their website for upcoming crawls and info. Til then, enjoy your books + anything, as long as you source those books from independent bookstores nearby ; )