LITQUAKE: San Francisco's Premiere Literary Festival is Celebrating 18 Years Proving Words Matter
9 Days of Literary Events Across 40 Local Venues, October 6 – 14
Check out the LITQUAKE FESTIVAL GUIDE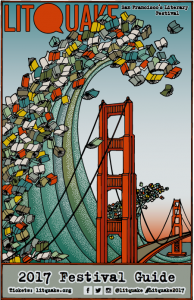 Over the next few days, San Francisco will remind you again why it is the greatest city on earth. Not only does the Hardly Strictly Bluegrass Festival crank up the volume on Friday for three solid days (Oct 6-8) of sun-filled, free music in Golden Gate Park, but it's also the opening night of book-loving San Francisco's premiere event, Litquake, which kicks off 9 days (Oct 6-14) of literary events throughout the city. These two beloved festivals are gifts to the city's denizens—and a reminder of why there's no place like home.
This year, Litquake celebrates its 18th year running with a sweeping program highlighting new work on legendary figures such as Joan Didion, Pablo Neruda, Kathy Acker, Gabriel Garcia Marquez, Woody Allen, and Charlotte Brontë, as well as sessions with a distinctly local vibe like Sand, Surf and Sartre, Psychedelics and the Pursuit of Happiness, and Vibrator Nation: How Feminist Sex-Toy Stores Set the Business Abuzz.
Multiple events are slated for each day of the festival and the format is varied with "literary lunches," evening panel discussions, pub trivia, kids' events, a Barbary Coast Prostitute Walking Tour, and, of course, it all culminates in the monster Lit Crawl on October 14th, when the world's largest pub crawl mixing books and booze takes over the city and hundreds of authors and readings take place on one glorious evening. The Lit Crawl (Oct 14) event map is here with times and locations of readings which are all free events.
Here are just a few festival highlights taking place at one of the venues: the Swedish American Hall, located at 2174 Market St., San Francisco CA. (Excerpted from the Litquake Festival Guide)
Saturday, October 7 • 8:00pm – 10:00pm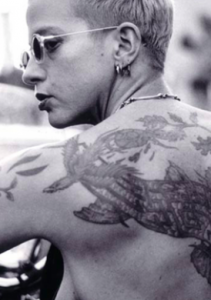 Raw and Savvy: Chris Kraus and the Life of Kathy Acker
Rich girl, street punk, lost girl, icon, scholar, stripper, victim, and media-whore: The late Kathy Acker's legend and writings are wrapped in mythologies, created mostly by Acker herself. In the new, fully-authorized biography After Kathy Acker, described by Maggie Nelson as "setting the bar for what will surely be a new era of critical and biographical reckoning," author Chris Kraus (I Love Dick) approaches her subject both as a writer and as a member of the artistic communities from which Acker emerged. In conversation with Dodie Bellamy. Book sales and signing to follow. (Photo of Kathy Acker by Kathy Brew.) $15 adv / $20 door. Get tickets here.
Monday, October 9 • 8:00pm – 10:00pm
Heroes: A Night of Stories with Porchlight
In these villainous times, the Bay Area's long-running Porchlight storytelling series returns with "hero"-themed tales from Owen Egerton, Laleh Khadivi, Cleve Jones, Amber Tamblyn, Carvell Wallace, and Norman Zelaya. Co-hosted by Arline Klatte and Beth Lisick. Music by Marc Capelle. Doors at 7 pm for Typewriter Rodeo, direct from Austin TX, where poets write poems on the spot, about any topic you suggest. Show at 8 pm. $20 adv / $25 door. Get tickets here.
Tuesday, October 10 • 8:00pm – 10:00pm
Liner Notes: Loudon Wainwright III with Chuck Prophet
With a career spanning more than four decades, Loudon Wainwright III has established himself as one of America's most enduring singer-songwriters. His songs can be laugh-out-loud funny, but they also can cut to the bone. In his new memoir, Liner Notes: On Parents & Children, Exes & Excess, Death & Decay, & a Few of My Other Favorite Things, Wainwright details the fractured relationships in the Wainwright family throughout generations: the alcoholism, the infidelities, the competitiveness—as well as the closeness, the successes, and the joy. Wainwright performs some of his classics, and discusses his life and work with San Francisco singer/songwriter Chuck Prophet. $20 adv / $25 door. Get tickets here.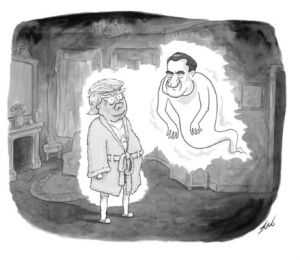 Thursday, October 12 • 8:00pm – 10:00pm
Parsing the President: Experts Discuss the Behavior of Donald J. Trump
These are unprecedented times. Never before has our commander-in-chief's behavior been so puzzling, so laughable, so…troubled? With so many Americans confounded by Trump's irrational behavior, not to mention odd use of the English language, Litquake has assembled this panel of experts to shed some light. Senator Barbara Boxer addresses his political naiveté, linguist Geoffrey Nunberg helps parse his verbal tics, psychiatrist Dr. Dee Mosbacher sheds light on his mental state, and comedian Will Durst talks about finding humor in this un-funny crisis. Moderated by journalist and author David Talbot. Image by New Yorker cartoonist Tom Toro. Doors open 7 pm. $20 adv / $25 door. Get tickets here.
Litquake runs from October 6 – 14, while many events are free, some require tickets and may sell out quickly.
Build Your Schedule Online- Check out the full Litquake lineup here.
#Litquake2017
#LitCrawl2017
#WordsMatter
https://loakl.com/wp-content/uploads/2016/05/LITQUAKE_cover-e1507261753795.png
254
193
Hannah Onstad
https://loakl.com/wp-content/uploads/2017/09/lg-loakl.jpg
Hannah Onstad
2017-10-05 09:15:06
2017-10-30 21:36:57
LITQUAKE: San Francisco's Premiere Literary Festival is Celebrating 18 Years Proving Words Matter